Mom and Dad's 60th Wedding Anniversary
Mom and Dad with son and daughter-in-law Stan and Cindy and their grandchildren, Wesley and Leila, and great grandchildren Dakota and Serenity.
Biography:
The Bio of Stan Feldsine III Circa Oct 2015
1974 - Graduation
When I graduated from high school in 1974, I did so with 1000 hours of auto mechanics training from BOCES. I loved cars, and I was envious of the guys that owned the hot cars running around Carmel, New York. Too bad I couldn't afford a cool car. I was working at Meadowland Chrysler Plymouth when I graduated, washing the new and used cars. That lasted till the end of 1974, at which time, the oil embargo caused lines for gas at the stations to reach around the block, and the big Chryslers and Plymouths stopped selling. I shortly thereafter was out of work. I have no doubt it was an easy decision for the management to lay me off because I loved to do burnouts with the new cars when bringing them in for the car wash. I wasn't too bright, and looking back, I can imagine them shaking their heads at me on a regular basis.
During this time, I was doing a lot of partying and drinking, and I was starting to experiment with drugs. Carmel had a big party scene.
1975 – IBM and Drugs
In February of 1975, my dad dragged me down to IBM in White Plains and got me a job with them. So 6 months out of high school, I was working at a job with IBM and started commuting 75 miles a day to get there and back. I say dad dragged me down there because I wasn't too thrilled about having a job for which I had to wear white shirts and ties and keep my hair neat. Did I mention I wasn't too bright? IBM at the time was undergoing many anti-trust lawsuits, and dad was a businessman, and I was a clerk in the defense efforts. I found that it was a real nice job, and I did not mind the long commute from Carmel to White Plains and back every day. It gave me lots of time on the road to smoke my joints and get high.
It was during this time that the darkest days of my life occurred. I was heavily into partying and drinking, and had been taking LSD. I'll never forget taking LSD at Madison Square Garden during a David Bowie concert, and to this day, I'm still convinced that he was passing along deep subliminal messages to those in the audience who had "ears to hear". Through these experiences, and taking LSD several more times I was becoming aware of a spiritual dimension to the world around me. Unfortunately for me, it was deeply unsettling and oppressive, and I descended into deep frightening paranoia. Not the kind of paranoid feeling that a weed smoker gets that the cops might be around the corner, but the persistent hour by hour day by day type that puts people in asylums. I came very close to loosing my ability to function, and the shrink that my parents sent me to see told me that I was a whisker from being taken out of society. This was a very dark and fearful time of my life. That I was able to keep my job at IBM through this was a miracle.
Sometime during this era, I had run into a bunch of Christians in Brewster who were filled with excitement and depth, and somehow on a spiritual level I was able to relate to them. They were empathetic with me, and told me that there was a good side and a bad side to the spiritual realm, and that I was seeing the bad side. They also told me that Jesus Christ was Lord and Ruler of that realm, and all I had to do was ask for His help, and He would help me if I wanted it. I didn't think much of it, till the day the shrink gave me the bad news. After that meeting in his office I was desperate, and remembering what those Christians had told me, I went out to my car and prayed, "God, I don't know if you are really there or not, but if you are, I need you now, please, help me!" It was a sincere and desperate cry. I didn't see any immediate results, but as time went on, I found that something profound had happened that day.
1978 – Los Angeles
In August of 1978, I left the East Coast. IBM transferred my dad and I out to Los Angeles to work out there for a year or so. We lived on Palos Verde, and commuted to downtown Los Angeles. It was also in 78 that I bought my 78 Kawasaki KZ 1000 LTD. It is an awesome motorcycle, and over the next 5 years I put 77,000 miles on it. I still couldn't afford fast cars, so fast motorcycles took the place of fast cars, and that was a seriously fast motorcycle, and even more appropriate transportation for the gorgeous southern California weather! I kept it for 23 years, and sold it to a very close friend who has promised to give me first right of refusal to buy it back should he decide to sell it. And guess what, in the summer of 2015 he offered it back to me, and I snapped it back up.
During this time, things started to improve for my mental health. Moving to a new location 3000 miles away meant that I had a brand new start. I didn't have my old friends to influence me, and the paranoia that plagued me started to subside. I remember distinctly that as the feelings were subsiding, after a couple weeks of being clean, I pulled out a joint and after smoking it, all the paranoia came flooding back. I remember thinking to myself, "Am I insane, what the heck am I doing!" I took the remainder of pot I had and flushed it down the toilet, and have not touched it since. It's been some 36 years. Even though it is easy to attribute my increasing health to my changing circumstances, I can see that Jesus was honoring my cry for help and helping me from the inside out, as well as by ever so gently guiding my external experiences.
1979 – San Francisco
In 1979, dad and I were transferred to San Francisco. We lived in Orinda, and commuted across the Bay Bridge to our offices at the Embarcadero Center for a year. This was a great time of my life, as I was spending a great deal of time riding my KZ 1000 all over southern and central California getting to know the back country of this great state.
1980 – Los Angeles - IBM Customer Engineering
In 1980, I finally left home at 23, and I left the anti-trust defense division of IBM I was in. My family moved to Tucson AZ, and I moved back to Los Feliz, in Los Angeles right next to Hollywood. I moved with IBM and had a job waiting for me as a CE (Customer Engineer). CE's were the folks that worked in the field taking service calls and fixing customer equipment. I started fixing IBM typewriters in 1980 for IBM customers in Santa Monica, Pacific Palisades, Malibu, UCLA, Hollywood, Bel Air, and Beverly Hills. That area was to be where I worked for the next 14 years. I found that my love and skill in mechanics was easily transferred from cars to complex Typebar and Selectric typewriters, and I was an excellent mechanic. Over time, I had the best running territory in my group, and I started receiving awards for it. Over the course of my time as a CE, I received 9 IBM Means Service Awards, which included trips to appreciation events in cities all over the US, Canada and Puerto Rico.
During this time, a friend who was also a CE introduced me to his brother, who was a Pastor of a small Foursquare church in Reseda CA. The Pastor's name was John Wayne of all things. He and I struck up a friendship, and I it is during this time that I actually started my Christian education. I had cried out to God, and He was helping me, and at this time I started giving Him back the honor and recognition for what He was doing in my life. I've been a member of the Foursquare Church ever since.
1983 – Marriage
In 1983, I met my wife Cindy. Cindy was a "Valley Girl" who was also a Christian. We both knew we were the ones for each other, and within four months of meeting we were married. We have been happily married ever since. We had our first child in 1987, a son, Wesley, and then two and a half years later, in 89, we had our daughter, Leila. We have a 4-year-old grandson, Dakota, and a granddaughter, Serenity who just celebrated her first birthday. During our time in Los Angeles, we lived in the Valley, Burbank, Reseda, and Van Nuys.
We have had a great marriage, filled with the typical struggles that married couples go through. But we stayed committed to each other throughout, have enjoyed great times, and are a great team today, after 33 years.
1987 – IBM Copiers and Mainframes
In 1987, I was trained on IBM copiers. I worked on IBM copiers for 3 years, and then in 1990 I was moved up to FE (Field Engineering). FE was the division of field service that worked on the big iron. I got to know huge computer rooms, servicing mainframes, DASD (disk drives), tape drives, communications controllers, and high speed printers, all sorts of very interesting and very complex stuff in the computer rooms of UCLA, the FBI, various airlines, and defense contractors like Northrup among others. I trained on and worked on this stuff for three years before someone in management thought that I would be more valuable to them working on the branch office staff, and I was given that opportunity.
1993 – IBM Branch Office Staff
In 1993, I joined the staff of our branch office that covered the entire west side of Los Angeles. While I was on staff, I was given the opportunity and freedom to express a great deal of creativity. The amount of freedom I was given was unusual. During this time I designed and implemented a significant application on my own time that changed a process that took months by hand and turned it into hours by computer. This application was in turn recognized and implemented in branch offices nationally, and I received a President's award $15,000 for this work, along with another honorary IBM Means Service Award since the work positively affected field service. After that, I spent several months traveling over much of the country providing training to local IBM branches on how to use it. This was incredibly fun and I made hundreds of friends. This work served to get me recognized by a reengineering staff in a new division of IBM that dealt with printers. I was offered a job, including moving expenses in Boulder Colorado. Well, I'd had enough of Los Angeles, and a move to Boulder was just too good to be true, my decision to move was made in about 1.5 seconds.
1995 – Longmont Colorado
In 1995, we moved to Longmont Colorado, just a few miles from Boulder. Living in this area of Colorado was truly a blessing. The area is absolutely stunning, and we would have still been there if it were not for the fact that where we are now is even better. We bought our first house in Colorado, enrolled the kids in a private Christian school, and lived a wonderful life with many friends for 10 years. I really miss that place.
During this time, a friend and I developed the second of the applications I was recognized for, and we expanded it into a huge worldwide application. This project took vastly dispersed paper information, books and such, and consolidated it into a central computer repository in a Lotus application called Lotus Notes. For my work on this project I received another Presidents Award of $15,000 and another honorary IBM Means Service Award. In 1998, our team went around the world on a training mission. My area was Europe, I went to England, Germany, France, and Italy for a couple weeks each training people how to use the application and how to use Lotus Notes. While we were there, we toured Milan, Rome, Venice, Pisa, Paris, Mainz, Wiesbaden, and London. We also took a side trip to Switzerland and saw Schilthorne – Piz Gloria and the mountain area they filmed Heidi on in the Swiss Alps in 1968. Along the way we saw miles of beautiful Swiss scenery. Others on my team went to Asia, and Australia. It was great fun. I continued to work with this printer division until 2003 on this same project.
I attribute the success of each of these applications, and the opportunities I was given entirely to the work of Jesus in my life. How else can it be explained that a young person, so paranoid that he was about to be locked into a funny farm, could achieve a turn around so stunning that he would produce to applications such that they would receive awards and world wide recognition within a company the size of IBM? I have a video of the CEO of IBM, Lou Gerstner singing the praises of our project, amazing. Yes, there was a lot of hard work on my part, but I was a transformed person, from the inside out, and there is no possible way that I could accomplish that on my own, Jesus was an integral part of my life, and it showed dramatically.
In 2003, the printer service division was disbanded, and merged back into the greater IBM Corporation, and corporate IBM decided to continue with the application. So from 2003 until 2010, I continued work supporting the same application that I developed back in 94, as well as several new projects. Also, in 2003, I became a work at home employee, and set up a home office.
2005 – Freshwater California
In 2005, since I was working from home, Cindy and I decided to move to Freshwater California. Freshwater is in smack in the middle of the Redwoods in Humboldt County, about 7 miles from Eureka. We are 5 miles from Arcata bay, and 7 miles from the Pacific Ocean. Freshwater has its own microclimate with marine layer and ocean fog to keep us cool in the summer and to hydrate the magnificent Redwoods all year. This is truly God's country here.
Cindy's grandfather had passed away a couple years back, and grandma was having difficulties with her renters. While we were out on vacation in 2004, we discovered that her renter at the time had turned the house we are now in into a "grow house". A grow house is an indoor marijuana growing facility, and it is pretty damaging to the home this is done in. After we got back to Colorado, we decided that we should move out here to assist her with managing the place here. Grandma had 22 acres of land, with 17 of that being income producing Redwood forestland. There are two houses on the property, and Cindy's mom lives in one house, and we live in the other.
Once again, as I look back, I can see the hand of God at work in our lives. 2005 was the height of the housing bubble, and that is the year we sold our house in Colorado. Could it be a coincidence? I don't believe in coincidence any more. Far too many things in my life have gone just right, over which I had no control, for me to think it is anything but divine guidance. To me, the evidence stands for itself. We were able to get a return of equity of $75K in those 10 years.
2006 – Horses and a Farm
In 2006 Cindy and I bought a couple horses, purebred Arabian geldings, beautiful horses, and Cindy and I built a 48x30 barn for them. Horses are Cindy's hobby. They are with us on our property, and we
very much enjoy them, although we don't ride them much. In addition to the two horses, we also have some 20 chickens, 3 dogs, and 4 cats. We also have a generous amount of raccoons, deer, foxes, and bear that are constantly trying to get us to adopt them as well. I'm drawing the line there though!
My hobby is my two Chevy trucks. I have a 1969 and 1971 Chevy Truck. I recently sold a 1969 Pontiac Firebird that I put a 455 in. Both of the trucks are both in running condition, but are currently in their 45 year old state, and needing some TLC. I also had a 1969 Buick Skylark for several years. That was the car I started with, and had done a lot of restoration work on. After moving to this farm here, I decided I really needed a truck, and could not afford all these collector vehicles, so I have settled on the two trucks.
We had a 3 car garage in Colorado for my cars, and out here, I have no garage, just a canvas cover, still. I was originally going to build the garage when we got here, however, when we bought the horses, we had no idea that in the winter, they must have shelter from the rain. There are many people around here who have no shelter for their horses, so by naïve observation, we thought they would do fine. We later found that these poor horses without shelter do suffer in the winters, so our barn got built before my garage. I'm hoping to get another 3 car garage built sometime, we'll see.
2010 – Retirement and Doing What I Love
In 2010 I turned 54, and after 35 years with IBM, I was caught in the cycle of IBM's downsizing through off shoring strategy. I was replaced with 2 Brazilian project managers. Cindy and I had been steadily preparing and planning for retirement at 57. Still, we were ready for this, even though it was early. We have no debt, live a moderate life within our means, and have a decent pension from IBM, and helping to make up for retiring 3 years early, because I was laid off, IBM provided a generous severance check. We have a decent 401K, which I have not had to touch in the last 4 years, and eventually will collect a generous amount of social security. So at 54, I permanently and confidently retired.
Upon retiring, I enrolled in NCBI (North Coast Bible Institute). This is an accredited satellite college course on the Bible taught from a Pentecostal pre-tribulation, pre-millennial viewpoint. Basically, it teaches an understanding of the Bible from literal and futurist viewpoint. There are 16 classes, and I graduated in the spring of 2015. After graduating I applied for and was granted a License to Minister from Foursquare International. I can't pastor a church with that, but I could be an associate pastor under the leadership of a home church over some aspect of ministry or another. My passion is evangelism, and I am actively involved with sharing my passion with the community we live in.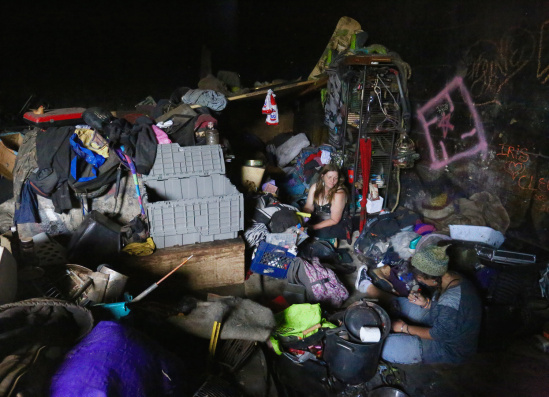 In addition to graduating from NCBI, I've become very involved with the less fortunate in the local community. I started out by joining with a friend of mine in reaching out to the homeless in our city. Eureka has impromptu homeless encampments along the waterfront and in the woods, and we bring food, socks, and water and pray for the homeless that live their transient lives there. In general, the message we bring is that we care about them, and are willing to help those who want to find a way out of poverty, and most importantly that Jesus can change their lives. Both, Cindy and I have been doing this for about 5 years.
I also conduct a service at our local Rescue Mission once a month. I provide a mix of teaching, preaching, and bringing in people who give testimony regarding what Jesus has done for them in their lives. I've been doing this for about 4 years.
Cindy and I are also members of the Gideon's International, the organization that provides Bibles to hotels, motels, and a variety of other venues. Aside from Bible distribution activities to our local businesses, I am also the Secretary for our local camp.
Cindy and I also serve at Celebrate Recovery hosted by our church every week. This is an organization similar to A/A, in that it provides people with any kind of hurts, habits or hang-ups with a Christ centered 12 step program. Although this seems primarily to meet the needs of those with drugs and alcohol problems, it is also geared to many other issues of life. We have been doing this for about 4 years.
But my favorite thing to do is to visit the inmates of our county jail. Once every week I visit the men, in their community dorms,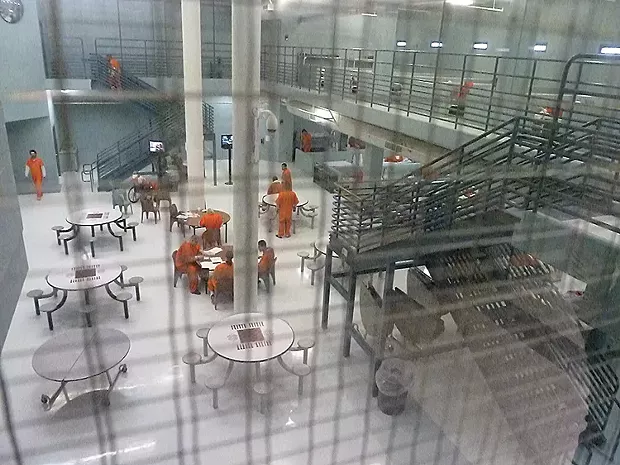 and reach out to them with love and compassion. I am able to reach out to them with the true message of Jesus, how he loves them, won't turn away from them because they have done bad things, and will always be there for them when they decide to turn around and open to Him. In the same way I cried out to Jesus in my time of need, many of these men do the same. Jail is a time of clarity for them, as they are clean, sober minded, thinking clearly, and have plenty of time to think. It is no doubt the most gratifying job on the planet when I see the spark of life light up in their eyes when they truly comprehend that there is hope for them, as there was hope for me. It is sometimes startling to see their response when the veil us pulled back and spiritual reality hits them. They come to realize it's not about church, or trying to be good, but it's about the reality of what Christ did for them, and will enable them to do. There is nothing more rewarding than watching this. I've been doing this for about 3 years.
One of the interesting results of reaching out to folks like this is that when we travel around town, these folks sometimes recognize us and treat us like friends. It is a great test of our character to respond to these street people with compassion and love in the midst of a city that wants nothing to do with them.
And so, this is my life, and what it will be for the future. Reaching out to those around me, giving them a hand up. I am grateful that we are financially independent and that I am able to do what I want to do.
I would love to hear from you, and would love to show you the Redwoods. Let me know if you are going to be in the area.
Stan Feldsine